Certificate in Pâtisserie and Baking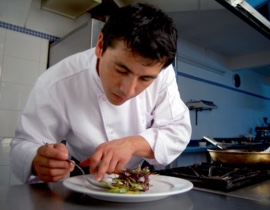 Duration
12 Months
Course Schedule
Monday - Friday
Morning
7:00 AM - 10:00 AM
10:00 AM - 1:00 PM
Afternoon
3:00 PM - 6:00 PM
Evening
7:00 PM - 10:00 PM
Description
This program includes hands-on teaching of techniques such as different pastry dough elaborations, basic pastry creams, basic cake production and bread production. As students grow more confident, they build up on skills they have mastered in earlier classes to create increasingly complex cakes and desserts dishes and eventually, full dessert menus.

The program is complemented with qualitative aspects of food preparation, including sanitation, identification of products, purchasing and cost control. The Institute offers a comprehensive sequential course of study of the baking and pastry arts fundamentals needed to enter the industry in entry to mid-level positions.

During the second semester, students will do an internship, participating in actual public food service operations in preparation for their future careers. Possible sites include the Institute own restaurant L´Ecole or operated practicum educational facilities, hotels, restaurants, country clubs, resorts, casinos, spas and food service providers.

Upon completion of the Certificate in Pâtisserie and Baking, students will be prepared and qualified to enter the foodservice industry or to pursue an Associate of Applied Science Degree in Pâtisserie and Baking, furthering their educational goals and career opportunities. All credits obtained during the certificate program will be transferred towards their following degree.
Core Curriculum Requirements